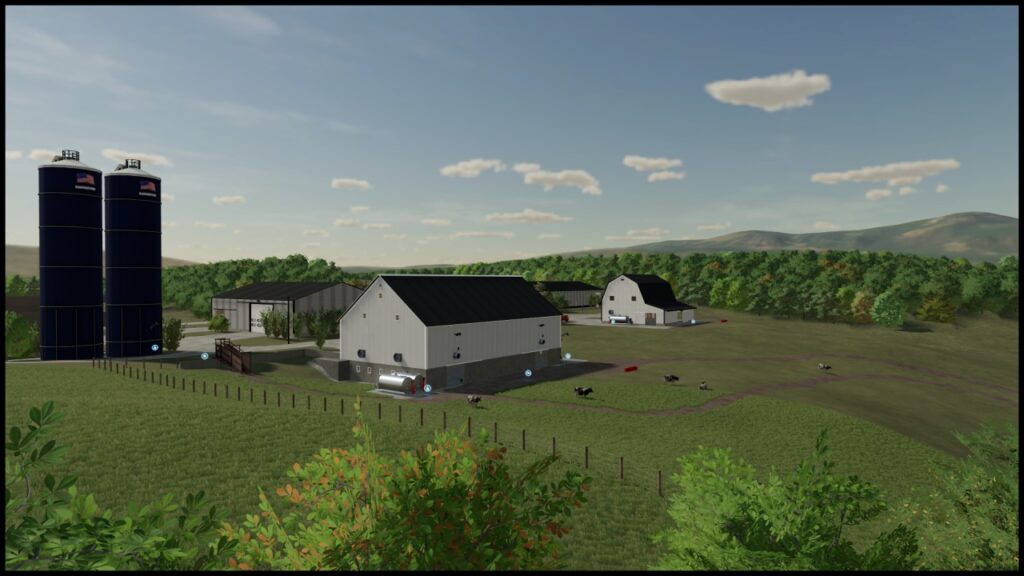 Welcome to Green Valley Nebraska. The is a fictional 4x map based on the northwest region of Nebraska.
– Corn Dryer is inbuilt in map produces dry corn from corn, Need to Buy it first to work.
– Custom harvestore is inbuilt in map produces silage from grass/chaff, Need to Buy it first to work.
– Whiskey, Beer, Wine, Ethanol, Chips, Soymilk, Pasta, Oatmeal productions are included in the map.
– Map has Custom Geo inbuilt. Corn and Soybeans can be planted in spring and harvested in winter.
– Map has additional ground textures and can be used in paint mode.
– Custom lighting added, orange sunrise and sunset, darker nights.
– Map has 39 arable lands, ranging from medium to large, and a few meadows.
– Custom grain bins added and NEED AUGERS to dump in grains.
– Nebraska license plates added.
– 4 custom farm areas on the map with 7 dairy barns and 2 pigsty. Need to buy land to own.
– Added Anhydrous Ammonia as a new fertilizer type.
– 2 Fire Stations are added to the map with animated doors.
– All farms have water and fuel triggers. I left out the house trigger so players can add their own triggers.
– A BGA plant can be found in the center-right with a methane sell point and charging station.
– 21 sell points included and vary for each product.
– There is a Case Dealership, a bulk feed shop for buying seeds, lime, herbicide, fertilizer, anhydrous, and propane.
– Added sell point for chaff, for those that don't want to mess with making silage like me.
– Multi-Terrain Angle installed, using 32 angles.
– Map is completely Error-free and just a few small warnings that are harmless.
Changelog:
Version 2.0
New Changes:
-The map has a custom soil map to support Precision DLC.
-Increased capacity in all Productions to support issues with contract jobs.
-Increased the rate for all Productions, Corn Dryer, and Harvestore Silos to produce faster.
-Animals will now accept bales directly for both food and straw.
-Increased food storage for animals now so they won't get empty by morning.
-All Animal pens now have an automatic water supply. No more of those tankers and roundtrips now.
-Added smoke effects to many of the Factory buildings
Bugs:
-Fixed issues where the Ethanol plant trigger is not working.
-Fixed issues where the Cereal factory trigger is not working.
-Fixed issues where Ashely Farms were missing the fences for the cow barn.
-Fixed issues where Straw triggers do not work sometimes for animal barns.
Note: New Save is not required, however, if any of the above changes do not reflect or have mod conflicts, please consider a new save game.

Note: I do not take complete credits for the models/objects as a few of them are from Fs19 maps where I did convert to FS22, make changes to models and textures.
Credits:
Map Models & objects: Giants Software, CCS101, DR Modding, MRG Mapping, MB Farms, Louisiana Mapping, Central Ohio Modding, Lancyboi, Txzar Mapping, CBJ Midwest Modding, Seriousmods, NoCreekFarms, NEFG Modding, Antler22, CSA Modding, HD Modding, Dyjo modding, Piotr75, ShowMeDirt, PM-Modding, RWModding, AWModding, Fatian and TSM, blueweb, Rory Kain, bhModding, North Simulation, cjwilksy, IB055, ThompsonM06, Fendt512, Basti_66, Amy Hertzler, Eric Borman, Edwards Modding, Dr.Drulia, and 4MR modding.
Scripts: LS-Modcompany/kevink98, modelleicher, GTX, Ifko, Andy, LKX/Stegei, Sven777b, Evgeny Zaitsev, TracMax, CCS101.