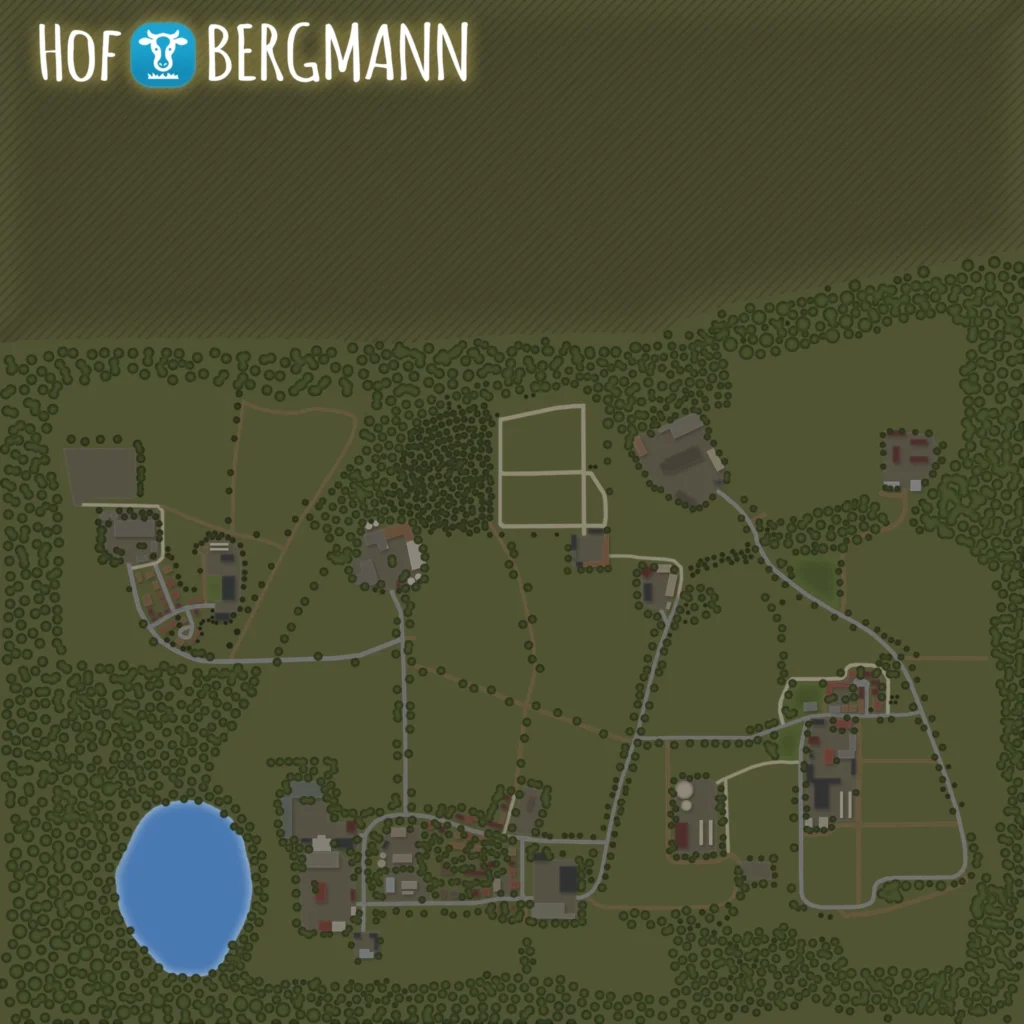 The time has finally come and the Hof Bergmann is available as the first version for the LS22.
The map will be further expanded in the future and this version is not the final version, because a map is never really finished.
Notes:
– Game must be patched to version 1.8.1, this is mandatory
– Mods in the map pack are mandatory because they are the starting vehicles
Known issues on the Dedi Server:
– Bales in the bale bearings are oriented incorrectly.
Cannot be fixed at the moment, as it is only a temporary solution until the GTX ball bearing script is available.
(Workaround: relocating bales and storing them again fixes the problem for the time being, but only until the server is restarted)
Changelog:
Changelog HB Version 1.1.0.1 Release
CHANGES/FIXES:
– Reading stones thrown out again because they cannot be completely deactivated in the menu.
– extended bushes were missing this has been fixed
– Mill for malt grist now only gives out loose material, no more sacks.
(Bags are impractical in this case because this step is supposed to make work easier for players who don't like to carry things by hand)
– The entrance to the allotment garden has been enlarged again so that it is now possible to drive through the garden with small tractors.
– Removed production costs in Brewery from processes that cannot be switched off.
Changelog HB Version 1.1.0.0 Release, CHANGES/FIXES:
– The trigger of a collectible was not reachable, this was fixed.
– Added own hotspot icons to the PDA map
– Warning at wine crate fixed, which was caused by tension belts
– Food in the cow pasture was adjusted, and milk was accepted in the cow's paddock ^^
– Sundial to rotate the sun was removed. Sun is now aligned as in the standard.
– Added malt grist to the farm silo.
– Stones activated again
– Map completely rebuilt based on a standard map (LODs of ground textures/foil layers are back to standard) for better performance.
– White edges on the fields fixed (are also fixed without Pump N Hoses DLC)
Version 1.0.0.2 HotFix Version/Pump N Hoses DLC
– Fixed bugs that occurred with the Pump N Hoses DLC (all stables were gone)
1.0.0.1:
– Moddesc version adapted to patch 1.5.0 (patch 1.5.0 is now mandatory)
– Fixed game crash when sleeping in farmhouse, fixed SleepCamera script by Ifkonator
– Fixed tool rack behind horse stable, objects falling through the shelves.
– Languages updated, added Turkish and Italian
– Mineral fertilizer is no longer displayed in the price menu for the beds in the allotment garden
Version 1.0.0.0 release version
– Fixed warning from game: Warning (performance): Foliage lod 1 mesh 'meadow' 'cut' 'cut' is much larger than lod 0 mesh (min/maxY (-0.175/0.082 vs -0.125/0.103)
– Fixed floating tree at Feld1 and in Fuchshausen
– the buyable crates could not be sold again, callstack when selling via the garage this has been fixed
– fillable apple crate it could happen that a remainder was displayed even though the crate was empty, this has been fixed
– Fixed milk fill plane from the bucket
– Removed invisible collision on the lake at the meadow
– Drive-through silos made compatible with AutoDrive
– all ground textures can now be painted from the map in the construction menu
– BGA drive-through silo could not be covered with too little fill level, this has been fixed
– Honey can now be sold in the village shop
– Vineyard is now farmland again, as it is not possible to split the area so that the vines in the upper part can be bought separately
– Fixed blemishes on field 16
– Adjusted FoodPlace Nodes at the pigsty farm, pigs were in the wrong position when eating
– Tool shelf behind the horse stable reduced in depth, built-in switch and new sound for height adjustment
– Pallet forks and weights can now be placed neatly on the shelves at the tool rack behind the horse stable, fork tines no longer fall through
– At the shed at the entrance to the yard, the gutter was edited a bit so that the gate opens further
– Removed light from trigger marker icons
– Corrected bumps on field 2
– All stables on the farm can now be mucked out yourself, either a shovel can be used directly in the stable or the filling trigger can be used in the aisles with a trailer
– Manure plate behind the pigsty is now used purely as a manure store
– Built-in sundial to adjust the sunlight, pointing in the direction where the real light comes from
(The light falls on differently, but the ball of the sun in the sky is correct again, which bothered some people)
– Visibility of the fields reset to standard if desired (unclean edges of the field edges are now visible again)
– after some time the garden gate in the allotment became invisible, this has been fixed
– Chicken coop at the farm now has smaller wooden boxes for the eggs, looks nicer than cardboard boxes
– It was raining in the chicken coop at the farm, this has been fixed
– Adjusted animal feed for cows (animal menu)
– no money was credited for logs at the carpenter's shop, this has been fixed
– AnimalTrailer Mini can now be attached to the Nissan pickup, color selection is now also possible
– Missing LSFM Map BigBags in the shop were not displayed, this has been fixed (note: when using the LSFM BigBag Pack, these are now available twice in the shop)
– Added FendGT as starting vehicle
– Removed collisions from bales in the bale stores, preventing bales from being thrown around when storing again
– Hayloft above the horse stable no longer simply converts grass to hay, only straw and hay can be stored
– Prevented field missions for the BGA, it happened that you got field missions even though you didn't own the BGA yet

Starting vehicles:
Mini Agriculture Equipment Pack:
– Schaeffer front loader, pallet fork or front loader tools were incorrect, this has been fixed
LSFM Universal Tank Pack
– Fixed index error on UTT-18000
Credits:
Farmer Andy