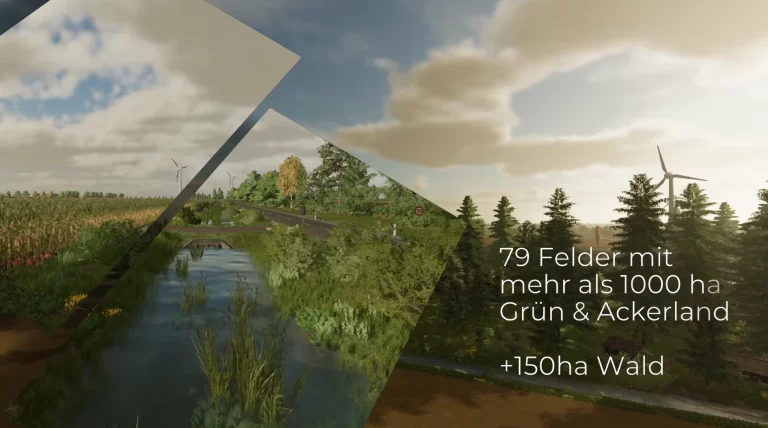 Landscape
Typical North German landscape in North Friesland. We have dykes here, ditches around the fields, and the fields are mostly square. The land was reclaimed from the North Sea by dikes over the past few centuries
Courtyards
There are no ready-made courtyards, everyone can creatively design their own courtyard according to their personal preferences. There are a few large spaces available for this. A few halls and a workshop are attached to the map
Fields then forest
On the NF march there are 79 fields with , from 0.8 ha to 95 ha everything is there, average field about 12.8 ha and the total area of ​​all fields is just over 1000ha of which about 140ha are grassland
Forest area
There are more than 150 hectares of forest with countless trees, most of which are also suitable for the wood harvester.
Fruit
In addition to the standard fruits, rye, spelt, triticale and millet have been added to the map, and other filling types on the map are earth, sand and gravel
Earth in the ditch
In the ditches you can find earth in many places on the map which you can dredge and sell with an excavator, then there is the sand, gravel, earth area where there is a lot of material for excavating and loading
Points of sale
If you harvest a lot, you also have to sell a lot. There are a total of 16 different points of sale at the NF March 4-fold, including Raiffeisen, the port, the train station but without a train, the depot, grain trade and grain AG
You can also buy seeds, fertilizer, lime, mineral feed, herbicides and liquid fertilizer at the train station and at Raiffeisen
For pallet goods there are the sales possibilities Lidl, Aldi, Edeka, the stadium, the hardware store and the spinning mill
You can sell bales at the nursery and straw at the thermal power station, there is also a sales station for wood at the sawmill, milk goes to the dairy (no production)
You can buy vehicles from the vehicle dealer and animals from the local pet shop
There are 3 gas stations, 2 of which are also equipped with charging stations, so that you don't have to leave your vehicle on the field without diesel, electricity or methane
The map also has 2 large biogas plants which can be bought and operated
Extensive road network
In order to be able to reach all sales points easily, there is a comprehensive road network where mostly AI vehicles are on the road
There is a ready-made Autodrive network from Holger for download where all fields and all sales stations have already been driven in.
Collectibles
On the NF Marsch Mod Map there are 3 different collectibles to search for. This includes 10 pairs of Shelly shoes, 30 FA gold coins and 78 NF march pallets
For all collector's items, there are shelves at the vehicle dealer that fill up when the objects are found. There is also a bonus when you find all objects in a category
If someone cannot find all the objects themselves, there are suitable help videos on my YouTube channel in which I show all the hiding places for the shoes, coins and pallets.
Support area
The shop area also serves as a big thank you to the numerous supporters of the NF Marsch. Here we have the active YouTube channel members and the self-made Twitch Subs
Content list:
MAP: NF MARSCH 4FACH V2.5 NEW
MAP: NF MARSCH 4FACH without trenches V2.5 NEW
Fed mods pack V2.1 NEW
Fed production pack V2.3 NEW
Autodrive V1.9
Changelog: NF MARSCH 4FACH MAP
Map version 2.5
– Chickens and sheep can now also produce manure
– Huge performance improvement across the map
– Moved the high seat next to the flour factory building site
– Removed grass from the hall at the port
– French and Czech translation added
– Removed fence around field 38 after voting
– Fixed typo in landscaping gravel with moss
– Supporter lists again up to date new residents on the map with house no. 12
NF March Map 2.4
– Optimized bale trigger on the BGA for Autodrive again
– Fields can now be painted via Landscaping menu
– Appropriate meadow can now be painted via Landscaping menu
– Vollmilch English translation fixed
– Achimobil has repaired the boat and ship routes are now correct
– Hide and hut at field 22 moved
– BGA Süd car display numbers moved appropriately
– Added fence between lots 45 and 46
– Deleted small floating texture above the Lumber Mill sell point
– Moved small floating texture above gas station
Map 2.3
– DANGER !!! Before starting the game, it is important to convert the savegame folder (e.g.: savegame1) with the FS22_FillTypeChanger. Already explained in video 633 and in 646 it will be explained again
extra shown.
– Changed rye texture and reduced plant density on alfalfa lavender and cabbage
– Fixed alfalfa hay round bales
– Price adjusted for tomatoes, strawberries and lettuce
– New palettes for Tomato, Strawberry and Lettuce
– Diesel price adjusted again
– Added 7 new fill types, raspberries, peaches, plums, cauliflower, pumpkin, mushrooms and red cabbage
– Moved the water hydrant at the train station
– Moved floating tree at slot 29
– Collision on ship at port moved appropriately
– Stadium now also accepts wheat and barley beer
– Water plants in field 42/51 slightly reduced
– The BGA's installed on the map can now be renamed
Map V2.2.1
– Neue feine Precision Farming Bodenarten Map eingefügt (Savegamebezogen, und danke an
Franz für die Vorlage)
– Fliegende Schrift auf BGA Süd Gelände gefixt
– Mülltonnen auf BGA Süd Gelände verschoben
– Diverse BGA Süd Deko Gegenstände der BGA selbst zugeordnet
– Beim Käsereigelände etwas größere Ausfahrten
– Folgende Server Meldungen gefixt
Unknown file type 'maps/foliage/hops/desktop.ini'
Unknown file type 'maps/foliage/hops/thumb.ico'
Unknown file type 'maps/foliage/redCabbage/desktop.ini'
Unknown file type 'maps/foliage/redCabbage/thumb.ico'
Unknown file type 'maps/mapNF/data/desktop.ini'
Unknown file type 'maps/mapNF/data/thumb.ico'
Map V2.2
– Cows consume 25% more straw, produce 20% more manure and 10% more manure
– Hop growth stages set correctly so the hops don't rot too early (thanks to Achim)
– Various fruits no longer have to be rolled, for example: corn, sunflower, soybean, potato, sugar beet, sugar cane, cotton, sorghum, carrots, onions, hops, lavender, cabbage
(Thanks to Achim)
– There are now a few decorative machines and devices in the shop (save game change and unfortunately only suitable for single players at the moment)
– Garbage can pulled out of the building at the port
– Fixed hover lamp at port
– Bank at the bus stop at the port moved
– Adjusted the purchase area at windmill between field 20 and 21
– Bridge to field 7 adjusted
– Eliminated the collision at the pillars on the big bridges
– Water plans in the south redone again
– Adjusted water plans in the yard to the width of the ditch
– Road salt included in the price list
– Place prepared for butchers
– Multiplay StoreItem bug fixed
– Map prepared for 9 new products (Beef, Pork, Chicken, Sheep, Sausages, By-products, Leather, Shoes and Logs)
– Cake palette error fixed if you shouldn't have the productions in the mod folder
– Updated channel members and active Twitch Subs in the shop
Map 2.1.3
Increased purchase area at field 25 (across the dike)
Increased purchase area at field 79 (across the dike)
Map 2.1.2
– Moved the lamps by the bridge to the island appropriately
Map 2.1.1 only version without ditches
– Bridges deleted again
Map 2.1.
– NF march logo on PDA map and map preview loading screen
– Map is now better compatible with the dynamic field prices mod (thanks to Marko for the tip)
– Changed cake weight and oil pallets
– Sorghum reinstated as chicken feed
– Cows and sheep can now also be fed with alfalfa and alfalfa ha
– Pig feed can now also use rye, spelled and carrots
– The Holstein cows give about 30% more milk
– Collision on port building moved
– Bridge to island (field 78) widened by about 25%
– Replaced old building next to office building in village
– Moved containers on the cheese factory premises
– Fixed missing wheat malt in l10n_en.xml
– Alfalfa should have slightly better performance again
– Rye now grows a little taller
– Ramps at Raiffeisen so that vehicles get stuck less
– Added small missing field corner at Fed 31
– Field 53 on the dyke smoothed out a bit
– Lavender can now be harvested with Thresher and Corn Head again
– Removed superfluous traffic sign next to the campsite
– Earth can also be sold again at the nursery
– Diesel prices slightly reduced again
– Fixed floating car at gas station
– Fixed water plane at field 57 and 80
– Water plane moved to the south so that it can also be placed better on field 81
Map version 2.0
– Reduced the water plane in the east courtyard area
– Red cabbage harvester taken out
– Mineral feed now in price list
– Moved lamps and a sign at the Lumber Mill sell point
– Green buoy placed a little lower at the port
– Deleted double high seat in the forest under the sawmill point of sale
– Hole smoothed out on field 74 (savegame height map related)
– New roller texture after seeding (texture by Perma's Modding)
– OG version field 23 and at field 8
– Added 7 new products (Beehive, Empty Wooden Boxes, Wooden Barrels, Cream Cheese, Mozzarella, Buns and Baked Goods
– Honey, bread, cake, furniture and cheese palettes changed
Map 1.9.2
– Fed Mission's field assignments now have my picture in them again
additionally in version 1.9.2 without trenches
– Can't load resource '..
mods/FS22_NF_Marsch_4fach_oG/huds/store/brand_TeamRheinlandpfalz.dds error fixed
Map 1.9.1
– Fixed hop crop bug – Pedestrian spline no longer visible in park – Da
Lavender in the Multifruit Pack is normally not suitable for threshers, lavender can only be harvested with the lavender harvester – A few carrots on the side of the road next to field 31 deleted –
Deco cranes at the port placed a little more appropriately on the rails – Superfluous BAK file also deleted in the version without trenches – Changed height model, Shelly had significantly more
I've filled that up now too… The height model is related to the savegame (terrain.heightmap) when exchanging it can have an effect on what has already been placed in terms of height.
Map 1.9
– Relocation new savegame necessary (see video episode 300 / stream)
– New better ground textures
– More ground angles for finer tillage
– Silage can now be picked up from the ground with feed wagons
– Onions can now be worked/ploughed normally
– A multifruit millet had to go.
– Marker posts at TankoFix moved out of the flower box
– New icon for mineral feed and wood/wood saplings
– New point of sale pet supply trade at the pet dealer
– 2 new fields (80 and 81 in the south of the map)
– Fields 56,57, 61, 62, 63, 66, 74, 78 enlarged
– A total of approx. 42ha more cultivation area
– Straw swaths can now be picked up with the chopper and you get 5% more straw out
– Added 4 straw collector pickups for chopper, 5% straw bonus when using the chopper
– 4 new products installed in the map (apple, pear, plum and cherry)
– Small pond at house 46
– Moved 3 plant boxes with the trees out of the fence at the brewery site
– Moved the floor decoration at the sewage treatment plant site
– Channel members and Twitch Subs as of 01.06.
Map version 1.8
– Freed up space at the port for new production Fischer
– Added collision at the hardware store for the potting soil bags and concrete pipes
– Double fence element between brewery and refinery building site deleted
– Deleted underground trampoline at house #30
– 70s sign near depot moved a bit
– Lamp collision between Raiffeisen and field 13 moved
– Collision boxes at the station purchase moved
– Field 77 and 78 slightly smoothed
– YouTube and Twitch channel and march supporters up to date again
Map 1.7.1 ohne Gräben Version Brücken und Leitplanken gefixt
Map 1.7
– Neue Luzerne Textur für bessere Performance
– 3 parkende Autos bei Bauplatz für Brauerei gelöscht
– Etwas mehr Platz bei der Einkaufsstation am Bahnhof geschaffen
– 5 kleine kaufbare Flächen für Abwasser Station eingebaut (Siehe Mapfoto bei dem Klärwerk)
– Grabendeko bei Feld 14 etwas tiefer gesetzt
– Düngebedarf für die Multifruits für Precision Farming eingefügt
– Kleine Lücke in der Wasserplane bei Feld 27 gestopft
– Map für 8 neue Produkte vorbereitet
– Alte Elektrobox in der nähe vom Hafen verschoben
(Bekannter Fehler der noch nicht gefixt werden konnte: Multifruit Erdfrüchte lassen sich teilweise nicht vollständig pflügen oder grubbern, hilft aktuell nur pflügen mit aktiver
Felderstellung)
Map Version 1.6
– Precision Farming ready Bodentypen Map
– 8 Neue Produkte in die Karte eingebaut
– Kaufläche vom Komposter bei der Gärtnerei etwas vergrößert
– Lavendel kann wieder mit Drescher Maisschneidwerk geerntet werden (Danke an Modmicha)
– Kollision von Lampen bei Feld 32 gefixt
– Werkstatt bei den Höfen nun auch Lackierung möglich
– Kompost nun mit K
– Regenrinne bei Gärtnerei etwas tiefer am Boden
– Neues Symbol für Siliermittel
– FillTypeConverter "STONE_CRUSHER" für Terra Farm Script Nutzer eingefügt
– Error: Failed to load distance texture "CompostDistance_diffuse" gefixt
– Haus-Nr 24 Doppelte Markise gelöscht
– Haus-Nr 71 Fass hat nun Kollision
– Haus-Nr 75 Fassade hat nun Kollision
– Ready für mehr Multifruits (danke an Tim)
– Gehweg Verlauf Parkbesucher geändert
– Ein paar alte Büsche neben Feld 58 gelösch
– Felddefinition bei Feld 9 angepasst (Kreisverkehr und Bahnhofhalle)
– Log Error Fehler mit Pickup beim Häcksler behoben
Map 1.5
Fence at BGA South slightly shifted (part of the BGA was in the fence)
Moved 4 bushes in the forest above field 57
Cleared space for pulp mill at port
BGA bale trigger enlarged for better dumping and autodrive detection
New symbol for water
Deleted last erroneous collision from field 10
Poplars can now be planted with precision planters
Lavender first removed from the corn header (because of motionPathEffects error)
Removed alfalfa in the curve at the harbor (savegame related)
Moved the vehicle spawn place at the shop a little further away from the hall
Trench at field 8 towards BGA is now part of the field
The avenue of trees at the "Rinderhof" now belongs to the farm
Missing delineator at field 29/30 pushed back to the street
Channel members and Twitch Subs up to date again
The 4 new products installed in the points of sale
Error Fix: Unknown file type 'effects/belt/beltonionClean_materialHolder.i3d.bak'
Error Fix: Unknown file type 'effects/belt/beltOnionDirt_materialHolder.i3d.bak'
Error Fix: Unknown file type 'effects/windrower/windrowerEffects.xml.bak'
Error Fix: Unknown file type 'maps/NF_Marsch/desktop.ini'
Error Fix: Unknown file type 'maps/placeables/windrad/Textures/Thumbs.db
NF Marsch Version 1.4.1.0
– Ballen in der Map geändert so dass sie wieder Autoloader Script tauglich sind
– Überflüssige .bak Dateien gelöscht
– Twitch Sub Tafeln im Shop nun auf dem aktuellen Stand
– Schreibfehler Luzerne frisch behoben
NF march version 1.4
– New Multifruits Carrot, Onion, Cabbage, Lavender, Alfalfa and Hops
– BGA electricity and gas is no longer sold automatically (keep, distribute or sell production system)
– Adjusted BGA's capacity and consumption for liquid manure, manure and sugar beet pulp
– Prices for diesel increased
– Prices for fertilizer sale and purchase adjusted
– Reduced prices for OSB, chipboard, and pallet boards
– Sales prices for pig feed significantly reduced
– Tree that is too close to field 55 moved
– Added collision at FED family house 78
– Smoothed out small bump on field 35 opposite the gas station
– Changed 2 bushes between field 71 and 72
– Entrance to the small forest at field 22 moved
– Field 17 on the dyke smoothed out a bit
– Added collision at shop counter
– Set up house 46 more beer and lamps
– 2 flagpoles at the shop were slightly in the air
– Added some new green connections
– Smoothed out bumps at field 66
– Fixed faulty lamp at the port area
– NF march pinwheels now have night light (thanks to Arthur 469)
– Shredded goods now also in the price list
– Grass after grass missions will now grow back
– Moved double tree at Nursery
– Added potatoes to the Fruittype category Planter
– Silage additives can now be bought at the Raiffeisen and train station shopping situations
– Small warning cones fixed in the shop
– Fixed lamp next to left hardware store entrance
– 2 new residents have moved in 37 and 42
Version 1.3.1 The first pallet productions
– The first 5 new types of pallets: empty pallets, board pallets, OSB and chipboard pallets, log pallets
– Closed a small gap at Wasserplan Graben Feld 45/46
– Tire pile at BGA North moved
– Deleted floating piece of steel beam at hardware store
– Collision added at kennel hardware store
– Collision added to some garbage cans and barrels
– Fixed a water plane next to field 63 that was too short
– Various remodeling work at house no.: 29
– Fixed gap in water between field 14 and 15
– 2 garbage containers placed a little higher at Raiffeisen
– Completed fence at field 18 by the hall
– Moved a few trees next to field 16 a bit further away from the field
– Parking lot under field 28 deleted
– Hole in the fence at house – No.: 35 closed
– Some old sunflowers at field 29 deleted
– Scale trigger slightly enlarged
March version 1.2
Bug fix + improvements
– AI road network now also in the north and south-east
– Improved AI road network in various places (rest is game problem with collision of helpers and stationary cars)
– New values ​​for seed consumption and yield values ​​for almost all fruits (thanks to Freelancer Trent)
– Wind turbines are now turning clockwise (thanks to Andy101285)
– Various superfluous textures deleted from the map (map about 260 MB smaller)
– Various technical optimizations
– Slightly increased spawn places at the shop for the vehicles
– Changed the depot collision and raised the building a bit so that you can dump trailers better
– Moved a lamp on the road by the port further away from the road
– Improved the transition from the stadium grandstand to the hut
– Added missing water in the ditch at field 38
– Added missing water at field 78
– Added missing water at house 48
– Added missing water at the port
– Dry lake next to the sawmill sales point refilled with water
– Fixed water edge at field 27
– Floating tree behind depot moved to ground level
– Pig feed and compound feed is now displayed in the price list
– Selling prices of feed and compound feed increased
– Selling prices of sand, dirt and gravel reduced
– Moved 2 empty pallets from space for diesel production
– Adjusted the height of the lamps in the carport 45
– Fixed various floating objects above the riding arena next to house 34
– Fixed covered tables at the hardware store
– Shelf/pallets In the hall next to house 39 it is no longer written in the wall
– Car moved at house #39
– Bus stop at field 45 moved back a little
– Fixed floating tree between shop and farmstead
– Collision added at the liquid sales point at the train station
– Field definition at field 46 on the power pole slightly adjusted
– A piece of remaining road under field 21 removed
– Brand flags at the shop are back
– Fixed cars standing in each other next to field 50 (old horse farm).
– Moved tree from Sawmill sell point
– BGA volume significantly increased again so that grass silage missions are not completed so quickly
– Turned the lamp in the curve at the former sugar factory
– Double hide in the forest at field 68 deleted
– Field 35 on the dike leveled again a bit
– Collision with the lamps at the bridge to the island on the top right deleted
– Fixed invisible collision at position 1612 1543
– Manhole cover a little embellished at the shop
– Tree in the garage at no. 70 postponed
– Deleted fence below ground next to train station
– The heaps of 83 have moved and we welcome newcomers to 26 Christian to 61 Myndworm and 75 BigBauerAndy
– Scattered sunflower next to field 46 deleted
– Deleted a few deco bushes on field 57
– Removed dead sunflower at the lake below
– Deleted a few wild poplars
Version 1.1.0.0
Bug fix + improvements
– Fences can now be placed without problems
– Animal enclosures/stalls can now also be built without problems
– New water sheet now mostly in the ditches and not everywhere
– Claas Axion tractor with new farmer mode is now part of the fleet and can be sold (search savegame for axion800.xml and then make propertyState="0″ propertyState="1″)
– New farmer mode, the road network is no longer part of the start.
– BGA farmlands are now not that expensive
– Turned some place-name signs the right way round
– Fixed floating trees in the wooden boxes old brewery area (under field 25)
– BGA active production costs are now the same for both
– BGA slightly higher silage capacity
– Deleted invisible collision of old barrels in the shop area
– Fixed floating delineators between fields 19 and 21
– Deleted floating hut above tile 73
– Moved the power box and broken stone heaps to the halls in the courtyard
– Collision scaling carport at house no.: 45 fixed
– Fixed floating lamp at house 69
– Fixed ground collision on field 10 and 35 (problems with swath, new score/move may be required)
– Fixed BGA north collision at the building
– Moved a lamp at the nursery
– Purchase price of gravel, sand and earth pits increased tenfold
– Trees at field 49 moved slightly away from the field
– Cable drum moved behind Spinnerei/Depot
– Lamp on former place for flour factory deleted
– Sunflower on the road next to field 27 deleted (only gone with a new save/if you reset fruit)
– New textures for the town sign ( User gronimusic.official Insta)
– Added collision at garage of house no. 69
– Server error message Ad_best of error fixed
– Fixed flying camera over gas station
– A few crash barriers moved a bit
– Fixed treeBranchShader.xml and treeTrunkShader.xml errors
– Prices of some filling types like egg, wool, flour and bread adjusted to the last LS22 patch
Changelog: FED MODS PACK
Mods Pack 2.1
– Hühnerställe nehmen nun auch Stroh an und produzieren dann Mist
– Schafställe nehmen nun auch Stroh an und produzieren dann Mist
– Neuer kleiner platzierbarer Misthaufen
– Fußmatte zum platzieren mit
– Französische Übersetzung eingefügt
– Performanceverbesserung Ballenlager
Mods Pack 1.9.3
– Güllekapazität beim Schweinestall und Kuhstall erhöht
– Gesamtvolumen von dem Ballenlager berichtigt
– Misthaufen Erweiterung Boden Fix danke an Achimobil
FED Mods Pack 1.9.1
– The one Fed logo on the chicken coop no longer hangs on the door and flies when opened
no longer over the whole map
– Pigsty warning message slurryPit_fillPlane fixed
– Increased water and feed triggers at the sheepfolds
Mod Pack 1.9
– Moved the water level indicator in the cowshed
– Increased milk and straw volume in the cowshed
– Placement level and meadow texture cowshed slightly adjusted
– Another version Fed chicken coop with slightly elongated animal enclosure
– Another sheep pen version with larger pasture
– Pigsty enlarged with space for 800 pigs + more decoration + liquid manure tank
Mod Pack 1.8.1
Cowshed produces manure again, which also ends up in the manure heap
Conversion to REVAMP script
Increased all door triggers at the cowshed
Collision added to the cowshed water tank
Milk trigger enlarged
Moved the cupboard in the cowshed to match
Chicken coop trigger for chickens increased
Downpipes and pillars at the chicken coop no longer float
Sheepfold animal trigger slightly enlarged
Mod Pack 1.8
LS22 cowshed enlarged with or without feeding robot with space for 1000 cows
LS22 Sheepfold ideal for placement on the dyke at field 25 and 79, space for 500 sheep
LS22 chicken coop enlarged, space for 1200 chickens
Mod Pack 1.7
– Increased transfer speed from liquid storage
– Fixed ball bearing wood chip display flickering
Mod Pack 1.6
– Umfangreiche Englisch Übersetzung alle Gebäude, Ballenlager und Tools
– Luzerne Heuballen nun in Ballen Lagerhallen technisch lagerbar (keine optische Ballendarstellung)
Mod Pack 1.5
– Shaft, well and hydrant to load water for free
– New bale storage for grass, straw, silage, hay, lucerne and wood chips with statement of bales of your choice or loose
– Existing bale hall somewhat embellished in terms of the bale stack
Mod Pack 1.4
– Fehler Werkstatt Trigger Indoor Area gefixt
– Hackschnitzelnballen lassen sich nun nicht mehr in der Ballenlager Halle bewegen
– Ballenlager mit Script von Achimobil umgebaut. Ballen werden nun nach Füllstandsanzeige angezeigt
Mods Pack 1.3.1
– Gesamtlagerkapazität Ballenlagerhalle berichtigt und Log Fehler "Warning: UnloadTrigger
has invalid fillType" gefixt (danke an Achimobil)
Mods Pack 1.3
– Neuer Fahrzeug Werkstatt Trigger auch als Erweiterung für Produktion Werkstatt geeignet
– Flüssigkeitslager Diesel tanken jetzt für alle Fahrzeuge
– Ballenlager erkennt jetzt auch Hackschnitzel Ballen
Mod Pack 1.2
New liquid store for storing water, diesel, Adblue, liquid fertilizer, herbicides, milk, silage additives, liquid manure and fermentation residues
Ball storage hall for storing bales or loose straw, grass, silage, hay and alfalfa. Output in bales of any kind (thanks to the script from Achimobil) or loose
New XL BGA drive-through silo
Walls of the BGA wedge silo increased and improved
The 3 smaller silos are no longer recognized as silo extensions
Various recommended texture improvements
Changelog: Production Pack
Production 2.3
– Swapped pasta production level indicator of rye and spelled flour pallets
– Refinery parking lot lines taken away
– Brewery moved erroneous collision
– Fixed CPU mesh flag error with wooden barrel pallet
– Changed silage additive palette and silage additive is now slightly lighter
– Added beer as a 10% booster for the lumberjack
– Performance improvement for various productions
– Refinery trigger liquids increased
– Cardboard pallet changed
– Beer keg palette changed
– Separator capacities for liquid manure, manure and digestate slightly increased
– Lime works overtime for gravel processing
– Gravel plant new line for soil and gravel
– Added better French and Czech translations
– For a better overview, the fruit plantations (apple, cherry, plum, pear, mirabelle plum and peach) can now be found in the construction menu under plantations
– Increased the trigger on the orchards a bit
– Laboratory silage additive can now also be picked up in liquid form
– Corrected collision in the PV systems
production 2.2.2
– Performance improvement for the power producing halls, 2 MW BGA, bakery, brewery, fertilizer production, fisherman, lumberjack and cheese factory
– Potato factory fixed erroneous collision at the silos
– Potato factory Pallet delivery trigger and waste water marking shifted appropriately
– Potato Factory Brickwork texture improved
– Increased vegetable factory trigger for potato, onion and carrot
– Added French translation (translator XTENNESIEX)
– Adjusted Moddesk to Giant's version number
– Deleted some superfluous textures
– Moved vegetable factory loading and unloading icons
Produktion 2.2.1
– Raffinerie Gebäude die an der 2 MW BGA dran hing gelöscht
– Sahne Palette ist wieder zurück 
– Wasserfüllstandsanzeige Nudelfabrik gefixt
– Pelletfabrik Höhe bei vollem Heulager nochmal richtig angepasst
Produktion 2.2
– Neue Produktion Nudelfabrik mit Herstellung von Nudeln, Spaghetti und Torteloni
– Neue Produktion Gemüsefabrik mit Herstellung von Kartoffelsack, Zwiebelsack, Karottensack, Pilzsuppe, Tomatensuppe, Kürbissuppe, Hühnersuppe und Gemüsesuppe
– Neue Produktion Kartoffelfabrik mit Herstellung von Pommes, Chips, Kroketten und Reibekuchen
– Abwasserstation Trigger für Wartung Servicewagen angepaßt
– Collision beim der einen Gewächhausseite eingefügt
– Vollmilch Englisch Übersetzung gefixt
– Komposter Wartung wird nun auch bei der Abladestelle für Diesel angenommen
– Pelletfabrik Höhe bei vollem Heulager angepaßt
– Wasserkapazität beim Klärwerk erhöht
– Separator hat jetzt funktionierendes Licht
– Kapazitäten von der großen 2 MW BGA erhöht
– Collison bei der 2 MW BGA gefixt
– Düngerproduktion Trigger etwas erhöht
– Gewächshäuser Türen öffnen nicht mehr automatisch beim vorbeifahren
– Schreibfehler Holzklotzen in Textilfabrik berichtigt
– Abladebereich Schüttgut bei Ölmühle etwas tiefer gesetzt
– Neue Schicht Leerpaletten beim Sägewerk möglich
– Neue Schicht Karton bei der Zellstoffproduktion möglich
Production 2.1
– New large greenhouse for tomatoes, strawberries, lettuce, cauliflower, red cabbage, mushrooms, pumpkin and raspberries
– New fruit tree plantation for peach and Mirabelle plums
– Orchards, Sugar Mill and Pulp Mill Water level increases when it rains
– Added sugar factory shift operation for sugar cane
– Sugar factory capacity for sugar cane increased
– Dairy side gates no longer open automatically when using an additional script
– Workshop Added extra trigger for maintenance in the parking lot
– XXL BGA collision with digestate removal appropriately shifted
– Fixed colli box at the separator
Production Pack 2.0.1
– Optimized cheese pallet visibility from the cheese
– Animals can no longer be bought directly from the butcher via the production menu
will
– Take out a piece of wall at the bakery and collision at a building
inserted
– Moved some containers at the sawmill
– Slightly reduced consumption of fertilizer and herbicides in the orchards
– Laboratory carton pallet filling level is now additionally by pallets
displayed
– Ensiling agent pallets from the laboratory can now be loaded directly from the chopper
will
– Fixed dung heap at the separator
Production 2.0
– New production butcher with processing of beef, pork, chicken and sheep, (Mod FS22_TH_AnimalProduction is required see mod list on fedaction-letsplay.de)
– Products from the butcher are beef, pork, chicken, lamb, cured meats, by-products and leather
– New production textile factory with production of cloth, clothes, shoes and logs
– New production Separator to separate fermentation residues or liquid manure into manure, liquid fertilizer and waste water
– Fixed typo Cobblestones Red
– Collision at the pulp mill moved appropriately
– Dairy the milk stirrers turn properly again
– Superfluous trigger at the thermal power station deleted, pallets are now accepted better (thanks to Achim)
– Added shift operation for refinery, slightly reduced production costs
– 3 different placeable BGA's for power production
– Kalkwerk water tanks now have collision
– Lumberjack Booster through apple, meat, clothes and shoes
– Workshop Booster through clothes and shoes
– Pulp factory chimney smoke installed
Production 1.9.2
– Fixed invisible collision next to the lime plant
Production 1.9.1
– Fixed oil mill trigger for pallet delivery
– Shell unloading trigger set slightly higher for Fischer
Production 1.9
– Carpentry Improved pallet spawn area so that both rows work
– Pulp Mill now works in shifts for more carton production
– Level indicators of the pallets installed in the productions (thanks to Achimobil)
– Kieswerk earth tarpaulin turned the right way around so that it no longer comes through the wall
– Fischer added new product shells (if necessary, start the server savegame in the self-hosted game and then load it back onto the server)
– Pellet production expanded by booster molasses, then 10% more production (if necessary, start the server savegame in the self-hosted game and then load it back onto the server)
– New production lime works with the production of lime from water, stones, gravel or shells
– New production cement factory with production of cement, stones and red stone pallets
– New production oil mill with production of rapeseed oil, soybean oil, sunflower oil, olive oil and lavender oil
– Changed hay, straw and wood pellet pallets due to performance issues
– Bread pallet straps fixed
– Could not add shape 'cheese' (cheeseShape) to tension belts due to the missing CPU mesh flag Fixed error with cheese palle
– New extra high pent roof hall with electricity production
Production 1.8
– New production carpenter with production of beehive, empty wooden boxes, wooden barrels, empty pallets and furniture
– New production cheese factory with production of cheese, cream cheese and mozzarella
– New production bakery with production of bread, rolls, pastries and cakes
– New production gravel plant with production of gravel, sand, earth and stones
– Apple, cherry, plum and pear orchards further production line with beehive and production of honey
– Planned error message at the malt factory fixed
– Extensive English translation of all productions
– Lamp posts at the flour factory moved a bit
– Sawmill shift operation now also added for boards pallets
– Slightly increased the capacity of products from the sawmill
– Pellets pallets the loading error fixed
– Fodder factory Ballentrigger now also takes lucerne bales
– Orchards added missing collision at the small building
Production 1.7.2
– Fixes bugs in seed and forage factory
Production 1.7.1
– Fixed ground texture when placing the flour factory
Production 1.7
– REVAMP production improvement mod is required (See modlsite on my homepage)
– Seed production optimization according to REVAMP Production improvement Seeds can be produced with significantly more raw materials
– Feed production optimization according to REVAMP Production improvement feed and pig feed can be produced with significantly more raw materials
– New production apple orchard, pear orchard, cherry orchard and plum orchard
– New narrow pent roof vehicle hall with electricity production
– Adjusted the range of ensiling agents in visibility
– Changed hay pellets pallet should now be accepted better in the invisible pallet storage
– Fixed pulp water level indicator
– Malt factory now converted from millet to sorghum millet
– Ball trigger installed in the pellet factory
– Brewery beer recipe refined a bit
– Sawmill can now unload wood chips a little faster
– Sawmill pallet spawners divided into 2 rows
– Hay drying a little quieter
– Adjusted pellet production floor
– Fixed pellet pallets
– Slightly increased the pallet spawner at the fisherman
Production 1.6
– New production fisherman with production of plaice, herring, crab and lobster
– New production pellet factory with wood pellets, straw pellets and hay pellets from hay or lucerne hay
– More empty pallets at the sawmill thanks to two-shift operation
– Added wood and straw pellets to the thermal power station
– Sugar factory new production line molasses from sorghum
– Malt factory expanded to include a new type of malt, millet
– Malzfabrik now also has waste water
– Brewery expanded to include a new type of beer, Millet Fassbier
– Flour factory increased the roof at the grain delivery area
– Pipes at the water tanks of the pulp mill set a little lower
– Added 5 position for the water stations on the map at the sewage treatment plant
– Slightly increased the unloading trigger at the refinery
– Warning strips that appear when placed far away, for example on field 3, have been deleted
– Sugar factory error sewage treatment station fixed in the sugar factory and moved some containers
– Pulp mill empty pallet capacity slightly increased
– Moved the hay unloading trigger in the hay dryer a little further towards the middle
– Brewery, Pulp Mill, and Flour Mill level placement improved
– Reduced the height of the pallets at the flour factory
– Malzfabrik outlet pipe slightly increased
Produktionen 1.5
– Neue Produktion Mehlfabrik mit Produktion von Weizenmehl, Roggenmehl, Dinkelmehl und als Nebenprodukt Kleie
– Neue Produktion Klärwerk wo aus Abwasser, Gülle und Gärresten Kompost und Wasser entsteht
– Neue mini Produktion Abwasser Klärwerk, kleine Station wo mit Wartung Abwasser entsteht
– Neue Produktion Molkerei mit Herstellung von Butter, Vollmilch, Sahne, Quark und Joghurt, + Abwasser
– Holzfäller Verbrauch Leerpalette auf größe der Holzstamm Palette abgestimmt
– Brauerei Schüttgut Schilder berichtigt
– Diverse Map Hotspot Symbole auf Produktions Symbol geändert
– Futterfabrik kann nun Mineralfutter aus Kleie, Kalk und Hefe herstellen
– Futterfabrik Kaufpreis erhöht und Silo Kapazitäten angepasst
– Düngerfabrik Herstellung von Dünger durch Kompost möglich, Silo Kapazitäten angepasst
– Düngerfabrik Herstellung von Flüssigdünger aus Wasser und Dünger möglich
– Beim Holzfäller und Saatgutherstellung Silo Kapazitäten angepasst
– Schwebende Tonnen beim Heizkraftwerk gefixt
– Zellstofffabrik und Zuckerfabrik produziert jetzt auch Abwasser
Produktions Pack 1.4.1
– Kollision einer Lampe bei der Zuckerfabrik gefixt
Produktions Pack 1.4
– Neue Produktion Zuckerfabrik mit Herstellung von Zucker, Melasse, Rübenschnitzel und Kompost,
Auf dem Gelände der Zuckerfabrik ist Platz für 2 weitere Produktionen
– Neue Produktion Malzfabrik mit Herstellung von Gersten-, Weizenmalz und Schweinefutte
Auf dem Geländer der Zuckerfabrik ist genau Platz für die Malzfabrik
– Neue Produktion Labor zur Herstellung von Hefe aus Melasse, Karton und Herstellung von Siliermittel aus Melasse und/oder Milch
Auf dem Geländer der Zuckerfabrik ist genau Platz für das Labor
– Neue Produktion Brauerei zur Herstellung von Weizen Fassbier und Gerstenfassbiert
– Kollision bei einem Tank der Raffinerie eingefügt
– Kollision bei dem Generator und einer Wand beim Heutrockner eingefügt
– Kollision beim Abladebereich und Gebäude der Zellstofffabrik eingefügt
– Ablagegitter bei Futterfabrik eingefügt
– Produktion Werkstatt Diesel tanken möglich
– Zellstofffabrik Ballen Trigger an die richtige Stelle verschoben
– Abladegeschwindigkeit beim Sägewerk für Hackschnitzel erhöht
– Komposter dient nicht mehr als Lager, Rohstoffe wie z.B. Gras kann nicht mehr entnommen werden.
– Komposter Kollision in Dieseltank und Dach eingefügt und Strohbedarf leicht erhöht
– Holzfäller Leerpaletten Verbrauch angepasst und Dieselverbrauch Stufe 2 etwas reduziert
– Zellstofffabrik Leerpaletten Verbrauch angepasst und Hackschnitzelverbrauch etwas reduziert
– Sägewerk Hackschnitzel und Leerpalette wird nun mehr produziert
– Überflüssige Halle bei der Zellstofffabrik gelöscht
Production Pack 1.3
New production hay drying
New production pulp mill with production of paper, cardboard and toilet paper
New production composter for making compost
Lumberjack, sawmill, workshop, all electricity producers can now be renamed
Fixed chipboard, OSB board, log and empty pallet straps
Fixed sawmill floating lamp
Thermal power station made some space next to the trigger for better AD bale unloading
The productions are no longer listed in the price overview
Collision added to the containers at the sawmill and lumberjack
Credits:
FEDAction
NF_Marsch_4fach
NF_Marsch_4fach_oG
Fed_Mods_Pack
Fed_Produktions_Pack
FillTypeChanger_0.1
AutoDrive_NF-Marsch_4-fach_V1.9_entpacken
AutoDrive_NF-Marsch_ohne_Graeben_V1.9_entpacken