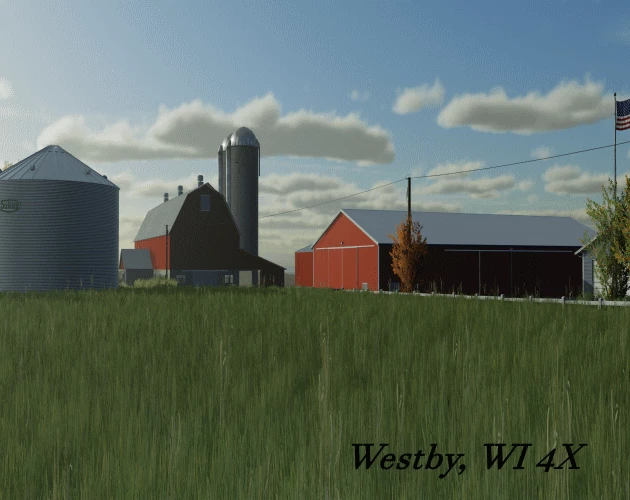 The wait is finally over! Westby 4X for FS22 has been released!!!!
This map was originally made at the beginning of FS19 by Tired Iron Modding. We both worked on updating the map once a year around Christmas and it kind of became tradition at that point. Towards the end of FS19 we made a 4X version in 2 weeks time which we never released. Looking back on it now, we're all glad we didn't just because it was so rushed and we just wanted something to play on. Back in mid December we decided to bring the 4X version back to life in 22. We decided to completely rebuild the map from the ground up and start fresh in the new game. The project took just over 2 months to complete which I feel is a pretty good time for a 4X as detailed as this is.
Changelog:
UPDATE 3/19/22. REDOWNLOAD BOTH FILES!!
This project originally started back at the beginning of FS19 by Tired Iron Modding. We made several updates throughout 19 and even made a 4X at the end which wasn't released. The map is nearly ready for 22 and will be released on 2/25/22.
In the update we have:
– Added multi terrain angle
– Fixed the large dairy farm
– Made the feed mill at the Feed store into a true production point
– fixed ownership on fences
– fixed the pastures
– resized the files of the map to 4x sizing
– added an animal dealer
– The coop triggers have been fixed
– many other small fixes

Credits:
Tired Iron Modding
MB Farms
If it weren't for the help of these people the map wouldn't have been possible:
– Tired Iron Modding
– JMF Modding
– Central Ohio Modding
– Kederk Farms
– and many others who helped either with making the map or testing it towards the end
The map info will be posted on the Itch.io page for the map which will be linked below
Thank you to all who helped along the way and helped make this map a reality that so many of you can now enjoy!
Map (FarmingMods.com)
Buildings (FarmingMods.com)
Download (ShareMods)