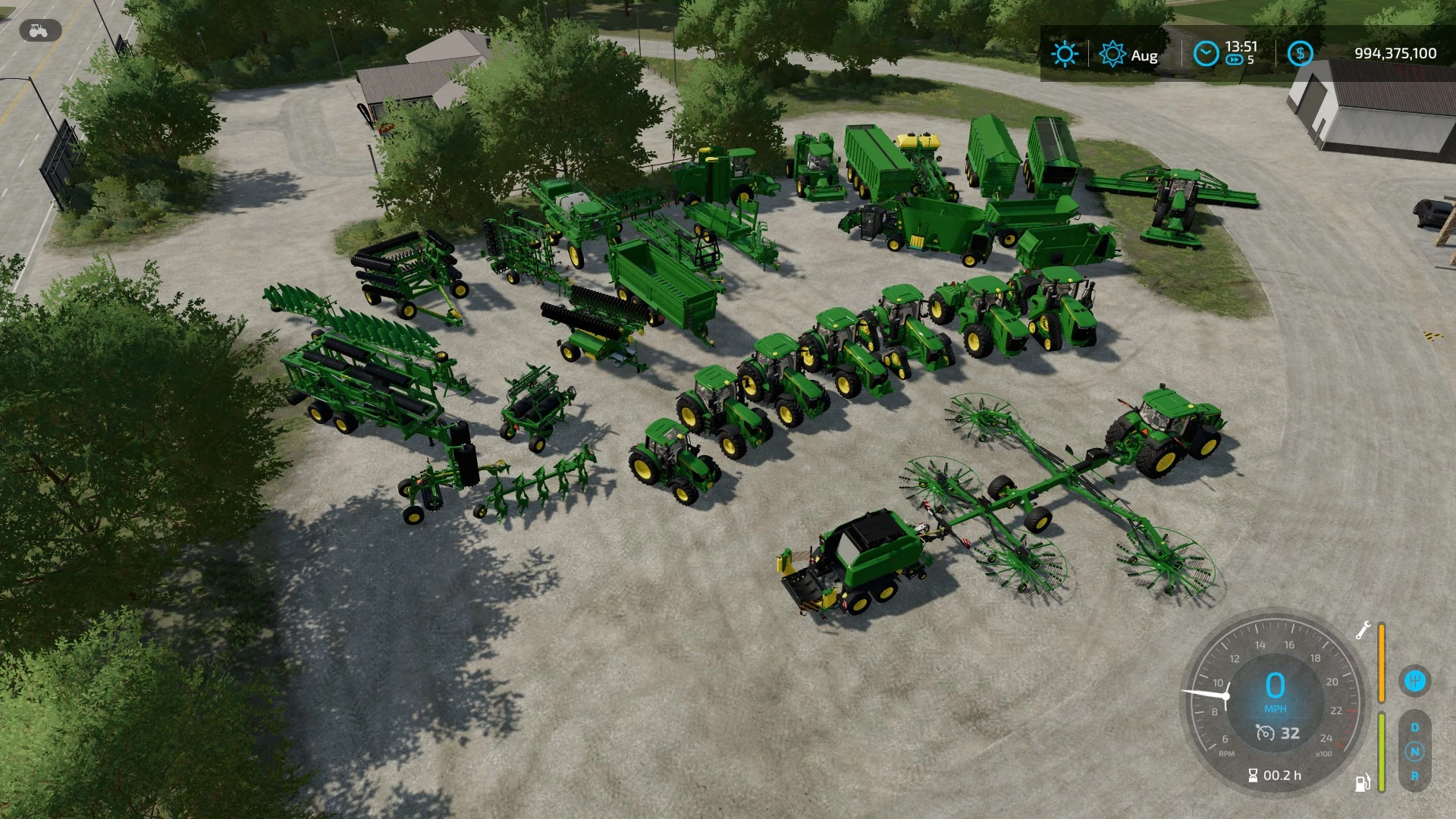 ***PACK MUST BE UNZIPPED FIRST***
I have updated my JD pack, now ALL 43 mods are supported in multiplayer. All mods have been re-decaled to JD, some color options have been reconfigured.
This is my pack of John Deere equipment with added color options, as well as various implements and trailers that have been rebranded or unbranded with color options to look like JD equipment. Pack must be unzipped and you can choose which mods to use or not use. I hope everyone enjoys. I have listed out everything that is included along with what category each piece is apart of.
Pack content:

1) 6M (tractor)
2) 6R (tractor)
3) 7R (tractor)
4) 8R (tractor)
5) 8RX (tractor)
6) 9R (tractor)
7) 9RX (tractor)
8) 420R Sprayer (sprayer vehicle)
9) 1775NT (planter and seeder versions included)
10) Big M 450 (mower)
11) Big M 450 w/ PTO (mower w/ PTO)
12) FSX 63 (square bale trailer)
13) GA 15131 (windrower)
14) GA 15131 w/ PTO (windrower w/ PTO)
15) GFX 3605 P (front mower)
16) GXT 13005 P (rear mower)
17) Halfpipe HP 20 (tipper trailer)
18) Hit 16 (tedder)
19) Impress 185VC Pro (round baler w/ wrapper)
20) Leader PF 2 (animal self propelled feeder)
21) Mach Till 412 (disc harrow)
22) Magnon CFS 530 DO (loaderwagon)
23) MaxiCut 600 (mulcher)
24) MaxiRoll 630 Greenline (grass land care)
25) Mega Roll 2430 (roller)
26) POV 5 XL (plow)
27) Primor 15070 (animal straw blower)
28) Prolander 7500 (cultivator)
29) PS 3401 (manure spreader)
30) PW 100 12 (plow)
31) RBM2000 (round bale trailer)
32) Solitair 12 (seeder)
33) TX 560 D (tipper trailer)
34) ZX 560 GD (loaderwagon)
35) 590 Rowguard (weeder)
36) DC 401 (subsoiler)
37) Rapide 450 Trailed (spader)
38) Rock King 9600 (stone picker)
39) Scorpio 550 (stone picker)
40) Dolly 10L (dolly)
41) TS 1520 (weeder)
42) Powerroll 1230 HD (roller)
43) HR 6040 RCS (seeder)
Credits:
Tator