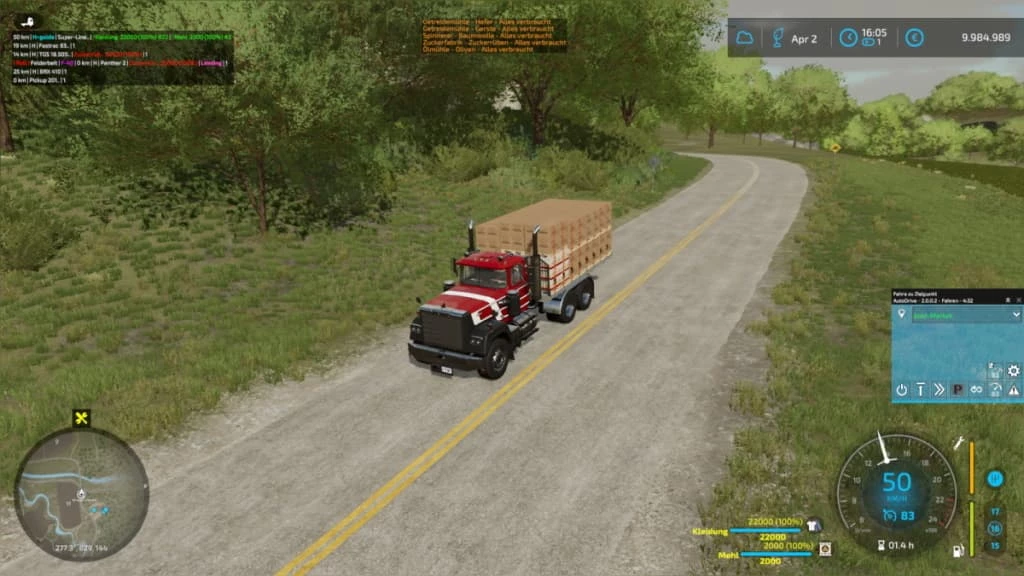 Requires the Mod "Pallet Autoloader Specialization V 1.2.0.0″ from Achimobil.
I haven't tested the mod on MP or Dedi yet!
Changelog:
Changelog V 1.2.0.0
– Tested with TestRunner_public (GIANTS). (Error free!)
– Loading area enlarged
– Loading area adapted for autoload
– Autoload trigger moved further forward because of trailer
– Payload changed 12 and 24 Euro pallets.
– Trailer hitch with connections moved further back. (Autoload now works with trailer).
– Side lights attached.
– Dependencies of "Pallet Autoloader Specialization" added
Changelog V 1.1.0.0
– Tested with TestRunner_public (GIANTS). (Error free!)
– Flatbed adjusted
– Payload changed. 10 and 20 Euro pallets.
– Rear lights attached to the flatbed
– Trailer hitch with connections attached. (Attention, unfortunately the autoload with trailer works only with the truck, not with the trailer!)
– Logos attached to the flatbed
– New store image
– New icon image
– Description in modDesc adapted
Version 1.0.9.0
– color selection
– logos
Version 1.0.8.0
– Added cotton round bale autoload
– Logs attached
Version 1.0.7.0
Landing gear adjusted
Version 1.0.6.0
– Load selection 12, 24, 36 pallets
Version 1.0.5.0
– Correction
Version 1.0.4.0
– Adjusted the unloading point
Credits:
Modell: GIANTS
Idee / Konzept: MEMDOR / Achimobil